Toyota Zambia wishes to remind our customers and prospects about our Free Express Parts Delivery Service via Motor Bike within Lusaka City 15km radius from each branch.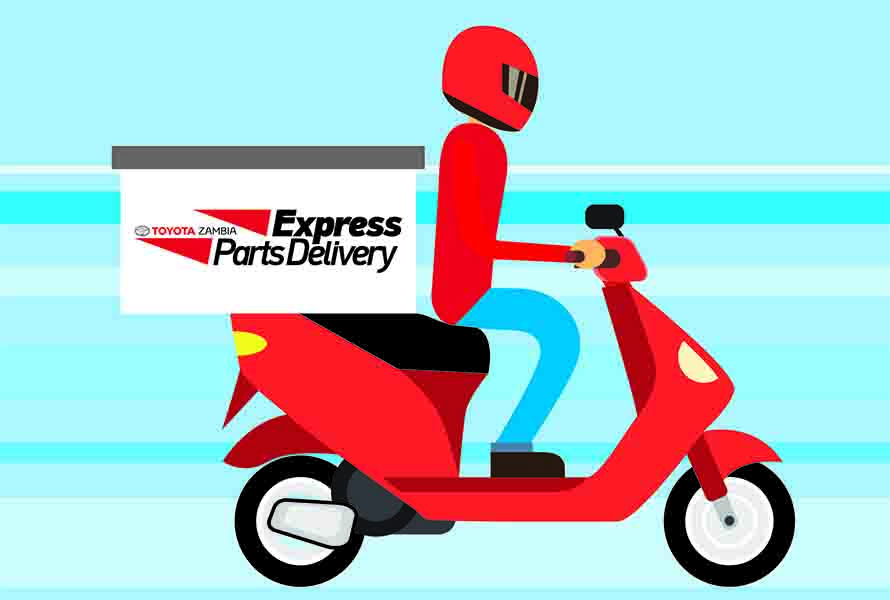 Express Parts Delivery Service Provision
The maximum load capacity is 20Kgs and size of parts are limited to capacity of load box. As a way to making the process easier, payment for parts purchases will be made through Point of Sale Machine and therefore debit cards will be accepted at delivery time. We are embracing the technological era and aim to serve you the best in this ever changing environment which at times could be cash less, however with visa cards.  All cash payments will not be accepted and all deliveries will be done from Monday to Friday between 08:00am to 17:00pm. Kindly contact our Telesale consultant (Cairo or Nangwenya branches) for further information as well as to place your order and delivery thereafter on +260971268005.
We Aim To Personalise Our Service Delivery to You Our Customers
We assure you of personalised service delivery through creating a package for different segments according to your needs and wants for the benefit of prolonging a life of your vehicle. Direct sales will be applied immersely to provide answers to commonly asked questions and objections that customers and prospects might raise in a personalised manner.Our goal is to contact customers directly through telephone.
Our Communication Plan
We thrive to serve you our customers efficiently to influence effective communication, trust and respect. Telesales consultants at Toyota Zambia will be readily available to contact  you our prospects who have responded to an advert or direct marketing campaigns from the parts department. We assure you our customers and prospects  of a well planned feedback process with quality customer relationship management and service delivery system.
Customer Service Delivery
Customer service delivery will be applied by contacting you our  customers for the purpose of checking and updating contact records constantly. This will  enable you know about new products, available campaigns or promotions that are relevant to customer's needs or preferences. Feel free to ask questions about the delivery process or how to distinguish and determine the quality worthness of our genuine products. Our Parts Telesales Consultant will deal with the inquiries promptly – be assured as we aim to maintain, enhance and retain you our customers. 
Cutting Down Your Order Process
Parts Telesales Consultants will offer you our customers additional Toyota genuine parts services when you call to place orders through an organised script that include promptness and shortened order process relevant for  Cross-selling which will increases customer satisfaction
We hope and trust that the services we  provide will be an added advantage to your requirements and above all serve you better in this ever changing busy environment.
Terms and Conditions
- Parts can only be delivered within 15km radius in Lusaka from any Toyota Zambia Branches
- Toyota Zambia reserves the right to make deliveries to locations based on area accessability and security
- Toyota Zambia reserves the right to demand a proof of payment before delivery made to TZAM bank account.
- Cash on delivery will not be accepted